"Chopin" Prize – 2nd Prize Ex-Aequo – ANNA BULKINA (RUS, 31)
{:it}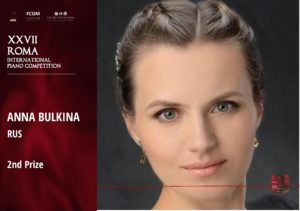 ANNA BULKINA, giovane pianista russa, ottiene il suo primo successo musicale all'età di 12 anni trionfando al "Chopin International Piano Competition for Young Pianist" di Szafarnia, in Polonia. Dopo essersi laureata nel 2008 presso il Conservatorio Sergei Rachmaninoff con il Prof. Rimma Skorokhodova, prosegue i suoi studi negli Stati Uniti presso la Texas Christian University grazie alla borsa di studio Lili Kraus sotto la guida del Dott. Tamás Ungár e anche all'Academia Pianistica di Imola " Incontri col Maestro" in Italia con il Maestro Boris Petrushansky. È vincitrice di molti concorsi internazionali tra i quali: nel 2009 negli Stati Uniti, primo premio (consistente in un Steinway Grand Piano) "MTNA Piano Competition" in Georgia, primo premio "Wideman International Piano Competition" in Louisiana e primo premio della 50° edizione di "Annual Sorantin International Competition", in Texas; nel 2010 secondo premio "International Piano Competition Valsesia Musica" (Varallo, Italia) e "China International Piano Competition" (Xiamen, Cina); nel 2011 primo premio "Concours International de Piano Virtuoses du futurein Switzerland" (Crans Montana, Svizzera) e secondo premio "Ferruccio Busoni International Piano Competition" (Bolzano, Italia), che le ha conferito un riconoscimento internazionale come pianista concertistica di elevato livello. A questa serie di successi, fanno seguito vari impegni concertistici. Il premio "Busoni Competition" le offre, ad esempio, il privilegio di frequentare tre masterclass tenute da Alfred Brendel: la prima presso il "Ruhr Klavier Festival" in Germania; la seconda in Italia, durante il Festival internazionale di Bolzano e la terza nella nuova "Harpa Concert Hall" in Islanda. Durante queste masterclass, si esibisce inoltre in recital come solista in questi tre Paesi. La sua vasta esperienza nell'ambito dei recital vanta sue performance anche presso il Beijing's National Center of the Performing Arts (Cina), in Teatro di Cultura Inglese ( San Paulo, Brasile), Teatro di Cultura Artistica ( San Paulo, Brasile), Gewandhaus ( Lipsia, Germania), Schloss Elmau ( Elmau, Germania), Schloss Belvedere ( Liszt Hochschule, Weimar, Germania), Filarmonica di San Pietroburgo, ( San Pietroburgo, Russia), Filarmonica di Rostov sul Don ( Rostov sul Don, Russia), Chamber Organ Hall ( Soci, Russia), Stagione Concertistica 2016-2017 dell'Accademia di Musica di Pinerolo ( Pinerolo, Italia), e ETH Musik Discovery ( Zurigo,Svizzera) .Viene regolarmente invitata a tenere concerti sia come solista che in formazione da camera per importanti associazioni musicali come AMA Calabria ( Catanzaro, Italia), Associazione Filarmonica Eliodoro Sollima ( Palermo, Italia), Worthing Symphony Society ( Worthing, Ingilterra), Festival Pianistico Internazionale "Mario Ghislandi" ( Crema, Italia), Liszt Festival ( Albano, Italia), Koart Associazione Culturale( Brescia, Carpenedolo, Italia), Festival Villa Solomei ( Solomeo, Italia), Fazioli Showroom ( Milano, Italia), Teatro Spazio 89 ( Milano, Italia), Fondazione Musicale Internazionale Dame Myra Hess Memorial Concerts ( Cicago, Stati Uniti), Società di Northwest Florida Symphony Orchestra ( Niceville, Stati Uniti), Phillips Collection ( Washington, Stati Uniti), Piano Texas Accademia e Festival ( Fort Worth, Stati Uniti). Ha collaborato con varie orchestre, come la Fort Worth Symphony (suonando il Concerto per pianoforte di Schumann sotto la direzione di Miguel Harth-Bedoya e il Concerto N.3 di Beethoven sotto la direzione di Leon Fleisher, in quanto vincitrice del concorso concertistico al "Piano Texas International Academy and Festival"), l'Orquesta Sinfónica de Castilla y León, la State Philharmonic Orchestra from Bacau, la St. Petersburg State Academic Symphony Orchestra, la Northwest Florida Symphony, la San Angelo Symphony (eseguendo il Concerto per pianoforte N.2 di Prokofiev, diretta da Hector Guzman), la China National Symphony Orchestra (suonando il Concerto di Mozart in do minore K 491 e il Concerto di Prokofiev N. 2 sotto la direzione di Lin Tao), la Wuhan Symphony Orchestra (suonando il Concerto N. 24 di Mozart) ed altre. Ha avuto inoltre il privilegio di lavorare con Miguel Harth- Bedoya e Paul Badura-Skoda.{:}{:gb}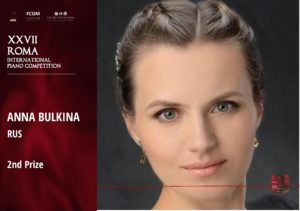 In 2010, Russian pianist Anna Bulkina was awarded the second prize in the China International Piano Competition followed by another second prize at the International Piano Competition Valsesia Musica in Italy in the same year. In 2011, Ms Bulkina captured the first prize in the Concours International de Piano Virtuoses du future in Switzerland, and then went on to win the second prize in the Busoni International Piano Competition. It was her triumph at the Busoni that has rapidly garnered her international recognition as a concert pianist of significant stature. In the United States, Anna Bulkina's accolades have included the Grand National Winner of the 2009 MTNA Young Artist Piano Competition, First Prize in the 2009 Wideman International Piano Competition in Louisiana, and another First Prize in the 50th Annual Sorantin International Competition in Texas.
A series of concert engagements quickly followed as a result of her series of achievements. Ms Bulkina has given recital at Beijing's National Center of the Performing Arts, and has appeared with various orchestras such as the Fort Worth Symphony, San Angelo Symphony, Northwest Florida Symphony, and the South Arkansas Symphony. In 2011, Anna returned to China to appear with the Wuhan Symphony, then performed with Fort Worth Symphony under the baton of Leon Fleisher as a winner of the concerto competition at the PianoTexas International Academy and Festival. Anna Bulkina has also extensive experience in playing recitals in Brazil, Switzerland, Germany, Italy and Iceland.
2015-2016 Concert season will be highlighted by concert appearances in Italy (Milan,Cosenza, Rossano, Catanzaro, Grosseto, Pinerolo, Monferrato), UK (London, Worthing), Germany (Ochsenhausen,Ummendorf) and Switzerland (Lugano) among others.
As a top prizewinner of the Busoni Competition, Anna Bulkina was offered the special privilege to play in a series of three master classes given by Alfred Brendel. The first of which took place at the Ruhr Klavier Festival in Germany. The second was during the Bolzano International Festival, Italy, followed by the third master class held in the newly built Harpa Concert Hall in Iceland. In between the master classes Anna also performed solo recitals in all three countries.
Anna Bulkina was born in 1986. Her first success was winning the Chopin International Piano Competition for Young Pianist in Szafarnia, Poland, at the age of 12. Thereafter, she presented recitals around the country. After graduated from the Sergei Rachmaninoff Conservatory under Professor Rimma Skorokhodova in 2008, she came to the United States to continue her study at the Texas Christian University on the Lili Kraus Scholarship with Dr. Tamas Ungar. In 2013 Anna graduated from her Master Degree at TCU and went to Imola (Italy) where she studies now at Academia Pianistica Citta di Imola "Incontri col Maestri" under Professor Boris Petrushansky.{:}